Electric Steering
As a result of a long experience in the design and production of steering systems, the new World Yacht electric steering is a technologically advanced system that lends the cruising pleasure an improved safety and ease of control.
Follow-up electric steering based on CAN BUS technology, it is an extremely reliable system thanks to the redundancy of several elements and it allows to control the boat in a comfortable and intuitive way in every sea conditions.
Our linear electric actuators are equipped with parallel brushless motor, gearbox and incremental encoder. They are provided with front ball joint and adjustable back base for the maximum easiness of installation and movement.
Recommended for any type of hull, it is a system that offers a great flexibility of application and configuration with a variety of adjustable options.
The steering also easily integrates and interfaces with auto-pilot and other control systems on board.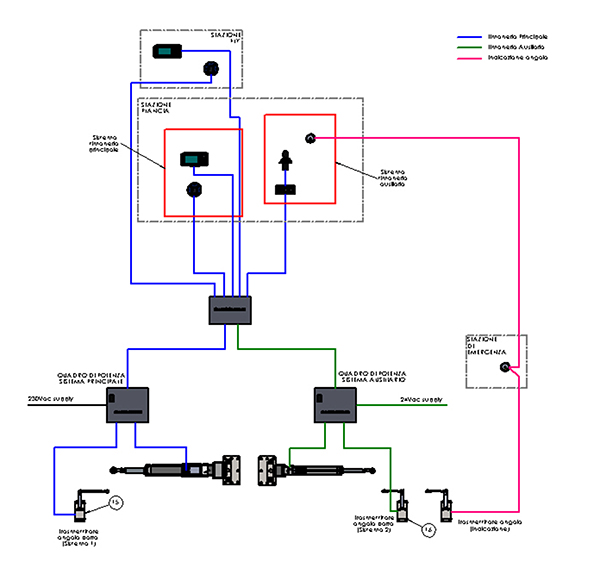 Regardless of control station configuration, each steering comprises an electronic control system and a totally electric power system by means of electric actuators, that allow to avoid any hydraulic connection inside the engine room.
Besides easiness of mounting and connection, this electric steering also offers the advantage to avoid some installation phases such as hose pressing and flushing, as well as the risk of possible oil leaks.
Advantages of advanced technology


Safety

Extreme reliability and safety assured by system redundancy (double electronic control cards, double control boards, double line of CAN BUS wires).
Each system includes double electric actuators, both auxiliary to the other one.
Independent power supply of main electric boards.
Easy trouble-shooting and problem solving through the LCD display.

Flexibility

Great configuration flexibility in terms of number and type of control stations (type of panels, joy-stick, etc..)
Limited electric connections by means of CAN BUS wires.
Fast installation thanks to plug-and-play BUS wires.
Adjustable number of wheel turns.
Adjustable wheel effort.
Selection of colour and light intensity from the display.
Change Over device for activation of preferred control station.

Integration

Possibility of integration with other management systems and interface with auto-pilot
Interface with different types of integrated systems on board and integrated bridge

Certification

Compliance with the standards of the most important Classification Bodies, RINA, ABS, Lloyd's Register